What are Convergence networks?
Simply put "Everyone has access to their data, no matter where they are".
Managed networks can help solve your connectivity problems
Convergence is still a bit of a buzzword but as more and more companies move over to Voice over IP [VoIP] sharing the existing data networks between technologies is now a reality.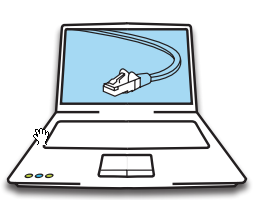 It's the ideal solution if you want to:
Connect two offices securely and reliably, or build a resilient wide-area network covering a number of locations
Allow employees to work from home, or from anywhere, without compromising security
Ensure that your internet access and email continues to work even if a line fails
Manage multiple services on the same bandwidth with prioritization for VoIP or Citrix
Having the ability to work seamlessly from multiple locations can really affect the performance of your company, streamlining communication and enhancing workflow.
really good computer services in-house experts are trained in over 10 different solutions so we are able to provide, install and maintain the right VoIP system for you.
To reduce the costs existing networking infrastructure is used, sometimes these will need some upgrading to handle the extra traffic but you can rest assured that you are in good hands, our technicians are the best in the business.
We are business partners with Easynet, Highnet, and BT and can recommend the right mix of services to suit your precise requirements.
SHDS (LES) spoke-and-rim resilient WANs with routed VPN failover
xAuth VPN clients over 3G with two-part authentication (RSA and ActivCard)
Citrix Metaframe Secure Access Manager
Bonded and fault-tolerant multi-carrier DSL solutions
Site wireless, including long-range point-to-point bridging
DSL with MPLS (multi-protocol labeling system) for class-of-service VoIP networks
Wireless networks [Wi Fi] can bring flexibility to office spaces, allowing staff and visitors access to a secure network and the Internet. Wi Fi is also a great solution for older buildings and areas that are difficult to cable because of access and in particular can be cost saving in connecting nearby buildings with clear line of site.
really good computer services can survey your premises and implement a secure wireless network with the best possible coverage.
Wired networks are still the backbone of the office environment, we work with a team of cabling specialists to provide clutter free and guaranteed solutions giving you the fastest possible speed from your office environment.
Whether you have an existing setup or are moving into a new office we know we can either improve or design the perfect fit for you.
Using the best technology available we are able to give a stable fast working environment and offer monitoring solutions that inform us of any problems before they impact on your working day.