Ad Hoc Support
providing on and off site technical assistance with computers, servers, networking, security, email, broadband, Wi Fi, hardware, software, peripherals and much more...
Ad-hoc support is simple to understand –
if you have a problem with any of the following:
computer pc or mac
desktop user support
server set up
networking
data backups
internet and data security
email
broadband
Wi Fi
virus
hardware
software
peripherals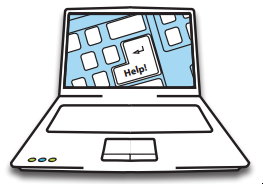 Call us and we will fix that problem.
Our ad hoc service is really good, it's also very likely to mean that you'll be so impressed with us, that you want to call us regularly to keep your business running.
We offer a free 15 minute diagnosis, 15 minutes of free fix, anything thereafter is charged at our hourly rate. To help you keep the costs to a minimum we will give you an estimated cost to complete the job after diagnosis, but prior to the fix.
We sent an engineer on site within an hour and we were able to diagnose and fix the problem. The firm has now come on board with a full support contract.